Podcast
Listen to the show's podcast above
---
Story
Full overview of the show below
---
What can we say about the amazing POLY ANNIE that will be sufficient.
Poly Annie creates digital & erotic art as NFTs that challenge social & gender norms by exploring themes of freedom & censorship. Like the amazing pieces she creates with her naked body, for thousands at Exxxotica Expo events around the country.
The interview begins with Bo proving to Chris that Poly Annie is a diverse individual. Rapid fire naming close to 50 things that she's into. At several points it's just too much for Chris who hides behind his laptop saying "I'm freaking out man"!!
We find out that Poly wanted explore her sexuality because she wanted to experience censorship, which Bo thinks is a very deep concept. Poly says she's a very spiritual person, and that her sexual exploration put her on a path to experience censorship so that she can appreciate freedom so much more.
Poly explains that she's just an artist, she's not trying to hurt anyone, or screw anyone over etc. She just uses her sexuality to express herself, and she is censored a lot and that is "alarming" to her.
Censorship is a REALLY BIG thing to her and she has lost a lot of social media accounts to it, including 21,000 followers on one. Poly Annie brings up a piece called the "Sistine Chapel of Smut" by Cryptonatrix that she owns, a piece that was banned on Rarible. For those that do not have the NFT video version of the interview,
Bo insists that Chris describes it for our podcast audience which he is not thrilled about and pushes through an embarrassing discussion that includes a desperate attempt to not mention the color of the strap on dildo in the photo! Poly "saw the piece and knowing it was banned she had to buy it, it was the most expensive piece she ever purchased for about $1,600.00 USD
Two more pieces are discussed and once again Chris is forced to explain the second piece which is a huge penis with a stick of balloons in the head of the penis. It's called "UP" and Polly says the piece was banned on clubhouse, and agrees that she just "loves banned penises!". Chris agrees saying "who doesn't?"
Finally they talk about Poly Annie's piece "Vulva Art" Chris Jokes about her vagina being 3 feet long and, she plays along saying her "vagina is the size of her whole torso."
Then it's time for NFT JEOPARDY! Where, with a little bit of help, Poly Annie answers 4 out of 5 questions including the first one which is a real softball, asking her to name the project that SHE was the person in charge of talent, called "NiftyXXX"
After the game, we get into how she became "Polly Annie", and her journey into the multifaceted artist she is today. She talks about how polyamory and her sexuality's exploration was blossoming when her car broke down one day, she didn't have enough money for another one, so she decided to take her art into the erotic direction and go all in starting a Chaturbate show which was the official birth of Polly Annie, where she ceremoniously shaved her head.
Poly Annie went out her way to explore her sexuality through her art and found that she's an exhibitionist. She says she'll do her masturbation videos, her nude art and she loves that people enjoy it, but she's still a very shy person "don't talk to me, don't look at me!!!"
A beautiful metaphor is made by Poly on how the reason for sex is procreation, to create life, and
so when you're tapping into your sexuality you're tapping into this creative part of yourself
It's amazing but she claims that that denying herself pleasure helps with her art and goes into how the sexual act of edging and denying her orgasms make her feel even more creative. She also explains how the ANKH symbol is important to her and it symbolizes how you can trap sexual energy back into the body. This helps her maintain that creative energy she needs
Bo talks about how Poly's live nude painting at EXXXOTICA conventions are extremely popular and are regularly performed for thousands of people around the Country. Poly talks about being approached to perform, and how much she loves it. She also says it gets so intense for her, she blacks out while doing it and cant even remember performing.
Mentors are important and Poly Annie talks about how she got into the world of NFTS and how her mentor pushed her into the world of Crypto which led to her becoming obsessed with NFTs.
The first NFT collection she created sold out within 24 hours, and in her first year she sold over 300 pieces. Amazingly, she gave away 70% of her profits to other artists and the guys discuss her generosity which leads to a discussion on income inequality. Poly Annie says " Yea, being poor sucks! I don't think anyone should be without money, its fucking absurd"

Maxing out credit cards can be a problem and she talks about how she had to max out 5 of them in her first year, it was a real struggle financially but she was determined to stay with it and that paid off in the end.
Chris goes into a story about maxing out his credit cards on a weekend bender with performers Carrot Top and Pauly Shore back in the 90's. This is a discussion not to be missed as it includes Chris's scoutmaster, Michael Jackson and the wonderful Jesus juice!
Currency design is not what you would expect to hear being discussed in this interview but Poly is very interested in it, although she says "its abstract as fuck to talk about!".
She describes it as not just a flow of money, but a flow of resources, information, energy, and attention. College degrees, reward systems, badge systems and of course money are all forms of currencies. "When we look at currencies as being more than money we take the burden off of it being the only currency"
Then as if that wasn't mind blowing enough she makes a really amazing reference on how that difference on how that corolates to the difference between monogamy and polyamory. They both take the burden off of having to be everything to one person/thing.
"Polly in a Painting" is her latest NFT release in almost a year. She shows us the main piece which is hanging up behind her and how "you're going to see me in this painting".
It's finally time for the infamous "Comedy Questions" and when asked about her favorite comedians, she mentions George Carlin and Bill Hicks which sets Bo off into a near fit of excitement. Bo cannot resist showing off his Bill Hicks tattoo on his arm.
We also find out her favorite comedy movies were the Austin Powers franchise and she thinks that Bo is the funniest person in the NFT world, go figure!
Her joke was "what's the difference between poverty and your wife?" You'll have to listen to the podcast to find that out!
This episode is sponsored by Riverside

Easily record podcasts and videos in up to 4k from your browser or mobile app.
It's what we use to record our episodes along with a ton of major companies but it's cheap!
Try it FREE today but even the paid plans are from $15 to $24
FIND POLLY ANNIE
https://my.bio/polyannie01 has all her links
FIND BLAZO!!
——————————————————————-
Starring: Poly Annie
Hosts Bo Blaze & Chris Park
Directed & Edited by Bo Blaze
Production Manager Chris Park
Visit our links page so you know when the NFT drops and other important information!
► http://blazo.art/links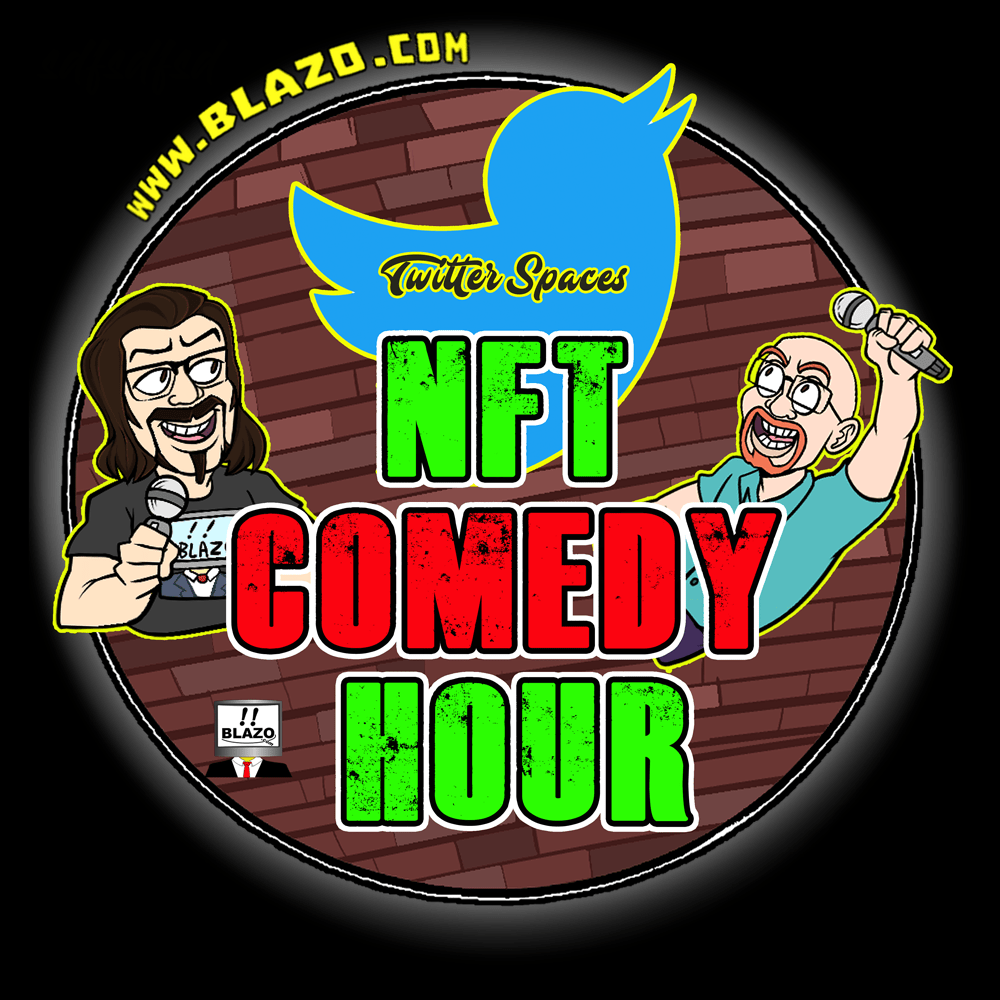 NFTComedy Hour
Like the Daily Show
but w/NFTs & Stuff
Every Tues 4:30pm ET
http://twitter.com/blazoart
---
---